Freeroll Poker Sites
Freerolls poker sites are quite common, and it's unusual to find a virtual card room that doesn't offer them. In this article, we'll look at the definition of a freeroll, the origin of the term, some of the advantages associated with the events, and our recommended Freeroll poker sites.
What is Freeroll?
A Freeroll is a poker tournament that doesn't require the player to pay an entry fee. Almost all poker sites offer such events, and they're a useful tool for bringing in new customers and retaining existing ones.
Who can play?
In some cases, the tournaments are entirely free and open to any player. Others, however, are only open to select players as part of a special promotion. Some even require points to enter, and this form of credit is earned on the site by playing real-money games.
Win real money with Freeroll Poker Sites
A large number of freeroll events offer cash prizes to the winner, while others provide free merchandise or entry into larger cash tournaments. No matter what the winner gets, freerolls are an excellent way for players to hone their skills and be eligible for prizes without dipping into their own bankroll.
Where to play Freeroll Poker Tournaments?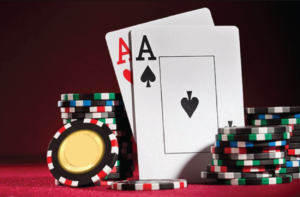 If we were discussing poker sites that accept American players, the list of options would be limited. The same applies to most categories, but freerolls and sign-up bonuses tend to be an exception to this rule. That's because gambling sites rely on these offers to draw in new business, and it's also helpful in keeping existing customers satisfied and coming back for more.
No matter what poker site you choose, you can bet they'll offer free tournaments. This is especially true of all the industry leaders, and even smaller operations are smart enough to adopt this strategy. If you do manage to find a site without freerolls, I suggest passing it up.
Top Ranked Freeroll Poker Site Tournaments
Freerolls are a part of the online and mobile poker culture. The top poker sites offer freeroll tournaments as incentives for new players to sign up, or as rewards for loyal customers. As a general rule, new player freeroll poker tournaments are part of a welcome bonus promotion, so a player receives a free ticket or bonus code from the site's cashier.
Freeplay events for ongoing poker players either are triggered when you reach a new achievement level in the rewards program or cash-in rewards points for entry into freerolls. Below is our list of the top-ranked freeroll poker site tournaments online card players will find.
US Poker Sites
Poker sites which are US-friendly need to cater to the needs and tastes of American poker players. A good US online card room needs to use US dollars, while offering payment methods like Visa, MasterCard, and Bitcoin.
The site needs to support English language live chat and player controls while offering customer support representatives who are fluent in the English language. Mobile poker apps for Android, iPhone, and iPad are essential. The sites below are our recommendations.
---
Daily freerolls happen at 11:00am ($12), 3:00pm ($20), and 5:00pm ($20), which cost far fewer player points. Also, when you deposit money into Bovada, you'll receive 1 ticket per week to get into a $16 freeroll event which feeds into the $162 poker event.
Bovada has a variety of big Sunday tournaments, including 'cheap seats' events, special qualifiers, quarterfinal events, semifinal events, and last chance qualifiers. These events are designed to provide a wide range of buy-ins to the Sunday Guaranteed events.
For weekday card players, Bovada also has jackpot sit & go tournaments, Zone Poker, quick seat events, and the Nightly Majors (for bigger jackpots). Bovada Poker's mobile-friendly interface also provides anonymous tables, so your tendencies don't give you away.
Poker Bonus: $500, 100 Match Rate
Prizes: $100K Guaranteed Sunday Event, $1.5 Million in Prizes Guaranteed Weekly
---
Every Thursday, players can enter the 5x Turbo Freerolls, which run every 2 hours from 3 PM ET in April and May. Players get 800 start chips with 5-minute blind raises. The top 100 players win their entry into the Step 1 satellites. The final event is on Saturday, June 7, 2018.
Poker Bonus: Up to $2500, 200% Match Rate
Prizes: $250k in Guaranteed Prizes
---
Players who want a cheap way into the $100k Guaranteed events can enter one of the daily satellite events for $11. New depositors receive a 100% match bonus on deposits between $50 and $2500.
Poker Bonus: $2500 Welcome Bonus, 100% Match Rate
Prizes: $100,000 Guaranteed Prize Pool
International Poker Sites
International poker sites need to cater to the maximum number of people in the large array of nations. Top international card rooms need to support many currencies and many language choices. Because payment methods vary between countries and continents, dozens of deposit and withdrawal options should be offered.
Customer support needs professionals ready to help players in scores of nations, while the site needs to accept players from well over 100 countries worldwide. 888poker and BetOnline Poker are our picks that represent the best international poker sites.
---
Alongside the daily freeroll events, 888poker has some of the largest Sunday tournaments on the Internet. The Mega Deep provides $100k guaranteed, while shorter events like the Mega Dozen and Turbo Mega Deep provide $20k prizes.
High roller events like the Hurricane and the Typhoon provide the best high stakes poker experiences on the weekends. Daily events like heads-up poker, sit & go tournaments, and multi-table tournaments (MTTs) complete the package.
Poker Bonus: $150 Poker Welcome Bonus (100% Match Rate), $20 No-Deposit Bonus
Prizes: Mega Deep $100,000 Guaranteed Event
Advantages of a Freeroll Tournament
If you're considering taking part in a freeroll event, you should be aware that a number of advantages are associated with such tournaments. The following are some of the most notable:
It's Free – I suppose this one is a no-brainer, and it's obviously the biggest selling point of participating in a freeroll event.
Less Pressure – If you didn't have to pay to enter, there's less reason to worry about the outcome. This allows you to chill out and enjoy playing the games (which should be your objective in the first place).
Great for Improving Skills – If you want to get better, there's no substitute for practice. Free games are great for this, as they allow you to play against opponents of all skill levels without risking any cash. Since the pressure has been reduced, it also allows participants to pay more attention to their competition and pick up additional tricks.
Encourages Experimentation – While you can still be eliminated from a tournament, there's no cash penalty for losing. This frees up the player to try different things, and experimenting with new styles of play is one of the best ways to elevate the overall level of your game.
Real Prizes – If freerolls offered no prizes, they would still be a great form of practice. When you throw in real winnings such as cash, merchandise, or free entry into larger tournaments, that's when the advantage of such events should become immediately evident.
Round the Clock Availability – No matter what time zone you live in, you should be able to find free tournaments scheduled throughout the day. This is especially important for Australian players, as their unique time zone can often create problems for residents playing on sites that cater to European gamblers.
The Origin of the Term Freeroll
Back in the 1950s when Las Vegas started to become the center for land-based gambling (and, most casinos were still run by organized crime). It was customary for patrons to be given a free roll of nickels upon checking into a casino hotel. This money was often used on the slots, with the hope that the customer would then dip into their own savings once the roll was used up.
This practice became well-known among veteran gamblers. Customers would often ask for their freerolls after arriving at their hotel. Over the years, the two words have been fused together and given their current meaning.
Not everything that glitters is gold
When online gaming establishments talk about bonuses, there's usually some form of catch involved. In the case of poker sites with freerolls, however, the games are often just what they appear to be. By offering prizes and removing the entry fee, card rooms allow customers to enjoy a stress-free environment where their skills can be improved upon.
If you enjoy a casual game of cards with the potential to walk away with real money for nothing, then freeroll poker sites are the best option for you.