Online Poker Reviews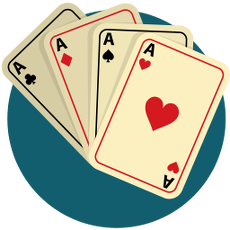 Here's a list of all the poker site reviews at TrustedPokerSites.com. Each of these sites represents the best of what the world of internet poker has to offer. Our blacklist, on the other hand, consists of the sites you should stay away from at all costs. To our visitors' delight, all of the sites we have recommended so far have performed exceptionally and given us no reason to consider moving them to the blacklist.
Betonline Poker - #1 in the U.S
Accepts U.S. customers with large player pool
10+ years with a strong reputation
$2,500 deposit bonus
Get Your 100% Bonus
Play Now
More Reviews:
Warnings:
How We Review Sites
Principles
Two things you should know about our reviews: we're honest and we don't hold back. If something is wrong, we make sure you know about it. The name of this site is Trusted Poker Sites.com and we'll do our best to live up to the name. Our job is to ensure that each of the online poker rooms listed here are trustworthy – we do that by searching for the negatives, and if there are none or very few of them, there's probably a lot of room for positives.
We also try to be as specific as possible when reviewing poker sites. We hate vague opinions which often give the reader a misleading impression. And we want you to see both sides of the coin. For example, Bovada Poker delivers cashouts within 7-10 days which is faster than all the other American poker sites. However, they also charge a 4.9% fee for processing your credit card deposit, which is quite a bit considering how most online poker rooms do it for free.
Furthermore, we refuse to recommend any online rooms that we wouldn't be comfortable depositing to ourselves. A great example of one of these rooms is Lock Poker, which has now held some players' payouts for six months or more. In all likelihood, they're operating a ponzi scheme, yet there are still popular informational poker websites willing to promote them as the "#1 choice" for US citizens. We could never sleep at night after doing such a thing.
Involvement
So how do we make sure to stay on top of these situations? We're active in the online poker community. We keep track of 4-5 popular industry forums on a daily (admittedly, sometimes hourly) basis, such as TwoPlusTwo and Casinomeister. We follow news sites, such as PokerFuse.com and PokerNews.com. We try to consume as much information about the world of online poker as possible. Our opinion on which internet poker sites to play at is based on a lot of study and first-hand experience.
What We Look at
As explained on the homepage, we look at many things when reviewing poker rooms, but three details are more important than others:
Safety and Reliability
Player Traffic
Customer Service
If an online poker room fails to meet these criteria at an acceptable level, we refuse to list them here and consider listing them on the blacklist (except in the case of lack of player traffic, which is unfortunate, but doesn't necessary say anything about whether a site is safe or serves customers well).
Other details we look at include:
Payout Times
Banking Options
Software Quality
Promotions
Game Selection
Everything matters, but if you have a poker room that has done an impressive job on the basics (safe environment, lots of players and great customer service), you already belong to one of the top online poker operations in the world. There are very few sites able to pass that criteria alone, and we've listed all of them here.