Easiest Poker Sites with the most fish
The easiest poker sites with the most fish provide numerous opportunities for skilled players to build their bankroll. This article is devoted to highlighting some of these gaming destinations, as well as explaining what fish are and how they can be identified.
The world of online poker is not for the faint of heart. Fortunes can change in an instant, and even the most likable player has a host of opponents looking to bleed them dry and leave them for dead.
The cutthroat nature of the game is epitomized by the dynamic between sharks and fishes. These individuals are locked in a perpetual struggle for chips, with the former frequently preying on the latter.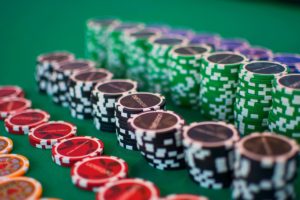 Our Top US Poker Sites
Top Poker Sites
Rank
Poker Site
Payment Grade
Bonus
Play Now
What is a Fish in Poker?
Unskilled card players are known as fish, and the poker sites with the most fish are often highly sought after by veteran gamblers looking to make some easy money. They known as the easiest poker sites because of this fishy reason. All virtual card rooms have their share of rookies. But certain sites have developed a reputation for catering to easy-to-beat novices. This is like blood in the water for sharks, and experienced players often flock to these destinations in order to feast.
Try to imagine the world of online poker as a large ocean. There are many creatures swimming in the water, and several of them correspond to different types of Internet card players. In this section, we'll look at the three most common varieties. In detail, each term means:
Fish – This term refers to an unskilled poker player. They make rookie mistakes, even if they've logged hundreds of hours of play. Fish are often novices who may get better over time, although some casual players never show substantial improvement.
Whale – Whales are a bigger version of a fish. They're unskilled players who haven't learned the proper strategies for online poker. They also have a much bigger bankroll to draw upon. Experienced players love to find whales in cash games, as they can walk away with a massive payout (especially in ring games).
Shark – The shark is an aggressive player who swims the oceans of online poker in search of whales and fishes, usually in the easiest poker sites. They love to gobble up opponents with less skill, and some sharks specifically target weak opposition to increase their bankroll. Since you're reading an article about the poker sites with the most fish, there's a good chance you fall into this category.
Easiest Poker Sites – Poker Sites With Most Fish
All the easiest poker sites have their share of fish, but some are more associated with rookie players than others. A poker room may attract fish because it has a reputation for soft games. Or something as simple as colorful graphics that appeal to the easily impressed. Online casinos and sportsbooks that offer poker are also prime locations. Their customers often migrate over to try their luck at cards with little to no idea of what they're doing.
If you intend to search for fish, the following online card rooms are a good place to start. Keep in mind, however, that a wide range of opportunities exist for the savvy and calculating player.
How to Spot a Fish in Poker
Once you've chosen an online card room, how do you go about finding all the weak players? The simplest option is to join a table and hope for the best, although you can also look for the following signs:
They Play Texas Hold'em – This is the game of choice for fish, as it's currently the most popular form of poker.
They Play at Famous Sites – You'll find less fish at obscure poker sites. The well-known card rooms, however, are often overflowing with novice players.
Overbetting – Rookie players often don't know when to stop betting. If a player consistently overbets their hands, then you may have found yourself a fish.
Constantly Goes All-In – Unskilled players prefer to avoid the flop, so watch for them to go all-in early to try and bully opponents out of a pot.
Plays Too Many Hands – Most veterans stick to the premium hands and fold a lot. If someone bets on every hand, mark them down as a fish.
Like to Talk – The chat feature distract the new player making mistakes due to having no attention on the game.
Playing Scared – If an opponent never makes it to a showdown, then they may be playing scared. This is another classic sign of a fish, and one that veterans love to exploit.
Goes on Tilt Often – If bad hands always cause a player to lose their composure, then they definitely qualify as an unskilled opponent.
So if you find yourself again looking for great place to get an edge on all the fish players, then be yourself, a shark, and enter the best and easiest online poker site!
Betonline Poker - #1 in the U.S
Accepts U.S. customers with large player pool
10+ years with a strong reputation
$2,500 deposit bonus
Get Your 100% Bonus
Play Now