Poker Sites by Traffic – The Largest Poker Sites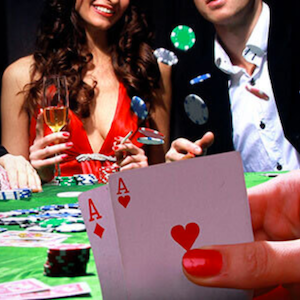 If you're looking for the best place to play poker games, start at the poker sites with the highest traffic. While the amount of players doesn't always directly correlate to a quality experience, it's usually a good indication that a particular site is doing something right. You can find in this article the highest poker sites traffic.
In this article, we'll look at the 10 sites that currently draw the largest number of customers on a daily basis.
I'll compare these rankings to 2006, giving you a greater perspective on the ever-changing nature of the business. For U.S. players, I'll also detail the leading sites that accept American customers. To wrap things up, we'll examine some of the reasons why one poker site might perform better than another.
Win at the best poker sites with the highest traffic
Top Poker Sites
Rank
Poker Site
Payment Grade
Bonus
Play Now
Poker Sites with Most Player Traffic – Highest Poker Room Traffic
So which poker sites traffic are high enough to be the most popular? The answer varies depending on state, country, or province. But the most reliable indication is the total amount of traffic within a certain period of time. After consulting with PokerScout, a page that tracks such data on a daily basis, I've determined that the following poker rooms get the most consistent traffic (as of this writing).

PokerStars.it
MPN
PokerStars.es
Adjarabet
The Changing Face of Online Poker
By way of comparison, let's look at the top poker sites from 2006 (based on the overall market share) to see how the industry has shifted over the course of a decade.

PartyPoker – 21.32%
PokerStars – 18.09%
Full Tilt Poker – 7.60%
Ongame Network – 6.43%
Ultimate Bet – 4.70%
Microgaming Poker Network – 4.52%
Cryptologic Network – 4.49%
Paradise – 4.47%
Bodog – 3.72%
IPN (Boss Media) – 3.72%
After comparing the data from 2006 and 2016, it should become obvious that a lot has changed within the online poker industry. That's not surprising, especially since Black Friday and its subsequent fallout didn't take place until 2011.
Two of the leaders from 2006 (Cryptologic Network and Paradise Poker) are no longer in operation, and they once accounted for a combined 8.96% of the market. PartyPoker dropped from first to sixth over a ten-year period, while PokerStars moved up from second place to capture the top spot.
PokerStars currently rules the world of online card rooms, with their main site and two international offshoots currently ranking first, seventh, and ninth. 888Poker has also made great strides, rising from 11th in 2006 to second in 2016, but have dropped to third place in 2018.
Top Poker Sites for U.S. Players
When you factor in poker sites traffic that accept American players, the rankings once again shift dramatically. Some leading sites, handling real money online poker, continue to steer clear of the U.S. market due to the Unlawful Internet Gambling Enforcement Act, while some sites rank in the top 10 despite only being offered within the borders of a specific state. With an increasing number of U.S. states looking to offer licensed online gaming, you can expect this list to look much different within a few years, making it easier to find the best online poker sites for real money as easy as looking up a grocery store on Google.
US Poker Sites with Highest Traffic
Other High Traffic Poker Networks:

Merge
WSOP NV/DE Lottery (only available in Nevada and Delaware)
PokerStars (available only in New Jersey)
WSOP/888 (only available in New Jersey)
Equity
Party Borgata (only available in New Jersey)
SWCPoker.eu
Reasons To Use Poker Sites with High Traffic
While poker sites succeed for a variety of reasons, most of them have a few things in common. In this section, we'll look at some of the most common ingredients for a successful Internet card room.
Bonus Money – While there's no such thing as free money for signing up with an online card room, a lot of popular sites do give players access to bonus funds that can later be converted into real cash. Before you sign up with a website based on such a promotional offer, just make sure to read the terms and conditions to avoid any surprises. All of the largest poker sites are with real money and they tend to be the best in terms of security.
Player Pool – The larger the site, the bigger the pool of players. This provides customers with a larger group of opposition, which often leads to bigger tournaments and payouts. For those who like to prey on novice players, it also guarantees a larger number of fish.
Fish players – The poker sites with highest traffic tend to have players with less experience and so, a shark can easily gobble them up. For you this means that, as a site gets bigger the easier it tends to be to earn money as long as you detect the fish players.
Reputation for Honesty – If a site can't be trusted to pay winners in a timely manner, then word is sure to get out within the poker-playing community. When this happens, business often decreases at a rapid pace.
Game Selection – While casual players are usually satisfied with Texas Hold'em, serious gamblers sometimes prefer other forms of poker. By offering a wide selection of card games, a site can attract a larger number of clients.
Rakeback – In order to maintain customer loyalty, poker sites often return a certain amount of the rake to players. This practice has been compared to offering comps at land-based casinos.
Conclusion
Online poker is an ever-changing industry, and the intense competition has resulted in a number of fluctuations within a ten-year period. While sites such as PokerStars and PartyPoker have been consistently strong performers, others have suffered massive drops in popularity or even been driven into extinction. By 2026, I'm sure the Internet poker landscape is bound to reflect an equal number of changes. If you ever want to check out the traffic volume for popular online poker sites you can always visit PokerScout.