Online Gambling Jurisdictions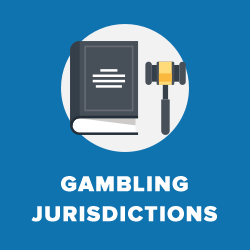 Even though you can access the internet from all around the world, laws regarding what you can do online are sometimes significantly different depending on your location.
Online gambling is one of the subjects that often make headlines – some countries are especially strict when it comes to setting and enforcing gambling laws while other countries embrace gambling.
Get a $1000 Bonus
Banking Methods

BetOnline Poker - #1 in the U.S.
Accepts U.S. Customers - BetOnline belongs to Chico Poker network, has operated for 10+ years with a strong reputation and offers a 200% up to $1000 deposit bonus.
Visit BetOnline
Poker gets even more attention than other casino-type games due to it being a game played against other people instead of the casino, and because skill makes a real difference in the game, and because stars aligned just right in 2003 for the online poker boom to take place.
One of the purposes of this section is to explain up-to-date gambling laws in different countries and jurisdictions. We're going to look at how online poker laws affect players and businesses, and we try to figure out if playing internet poker is legal where you live.
We're not lawyers and have never studied law though, so please don't take what we write for legal advice. We write for entertainment-purposes only. Please contact a local gaming lawyer if you have any legal questions.
Licensee Jurisdictions
The jurisdictions that offer gambling companies the best conditions to operate in also get their business, and there are surprisingly few jurisdictions that appeal to online poker companies. Malta and Gibraltar are extremely popular for those operating outside of the US market, while US-accepting gambling websites tend to locate in places like Costa Rica, Curacao and Panama.
Here are our guides to the most common online gambling licensee jurisdictions:
Skill vs. Luck
Legally-speaking, should poker be regarded as just another casino game? Is poker a "gambling game" just like the rest of them? The main distinction between poker and other gambling games is playing against other people instead of playing against the casino. Skill plays a bigger part when competing against others as anyone who has ever spent some time playing poker can attest to.
And multiple studies support that notion. For example, according to this study, "there appears to be a significant skill component to poker" and "skill differences among top poker players are similar to skill differences among top golfers."
So why does this matter?
In the United States, many state gambling laws target online poker suggesting poker is considered a game of luck (or a game where "luck is the predominant factor"). While luck certainly plays some part, there's no question about skill making the difference in the long run. Many people use this argument when arguing about the legality of online poker in the US, and even though it's a sensible argument, how would such an argument fare in court?
We have at least one court case to look at (Commonwealth v. Watkins) which took place in Pennsylvania. To make a long story short, a Columbia County Court ruled poker a game of skill based on a Dominant Factor Test which analyzed whether luck or skill is the predominant factor in poker (here's a list of states using the Dominant Factor Test.
However, on April 2, 2010, that ruling was overturned by a Pennsylvania Superior Court and poker was declared to be a game of luck. The ruling was based on previous court cases all the way from 1919 which considered poker a game of chance (and which never used the same Dominant Factor Test as Pennsylvania).
So even though there have been studies supporting the notion that poker is indeed a game of skill, and even though anyone who plays poker for any meaningful period of time recognizes the skill aspect, we're left scratching our heads. Even though studies point tos the contrary, poker can be considered a game of chance in court just like other gambling games.