Isle of Man Gaming Jurisdiction – Gambling Supervision Comission
Located in the middle of the Irish Sea and near the coastline of England, the Isle of Man has become one of the "big four" gaming jurisdictions, along with Malta, Alderney, and Gibraltar. Their Gambling Supervision Commission was founded in 1962, and in 2001 they became one of the first nations to introduce legislation to regulate and license online gaming.
Advantages
There are a number of advantages associated with holding a license from the Isle of Man. For businesses, the most notable is the 0% corporate tax rate. This has lured a number of high-profile companies to the island over the decades, and it's a primary reason why their online gaming industry has more than tripled since 2006.
Betonline Poker - #1 in the U.S
Accepts U.S. customers with large player pool
10+ years with a strong reputation
$2,500 deposit bonus
Get Your 100% Bonus
Play Now
Their status as a British Crown Dependency ensures a strong regulatory environment and a stable government. They also have a wide range of support services, as well as a competitive infrastructure.
Getting a gambling license in the Isle of Man is a process relatively quick compared to most jurisdictions. On average, a successful applicant can expect to receive their license within 10 to 12 weeks.
How long does it last? Gaming/Gambling Licenses in the Isle of Man
Once a license has been obtained, it's valid for a period of five years. This is often appealing to companies, as the longer term prevents them from having to deal with a time-consuming annual application process.
Finally, the nation's attention to fairness and security has kept them in good stead with the UK Gambling Commission, allowing them to be included in the country's whitelist. Inclusion in this list allows for all forms of marketing to be conducted within the borders of the United Kingdom.
Obtaining a License
Those wishing to obtain a license from the Isle of Man have four options: online gambling, land-based casinos, betting offices, and controlled gaming machines (outside of casinos). Only the first item on the list is applicable for those wanting to run an online casino or card room.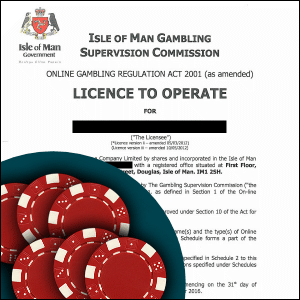 The first step is to fill out all the paperwork required by the Gambling Supervision Commission. This allows the governing body to investigate the intentions of the applicant, as well as ensure that their past is clear of criminal misconduct.
All casino software must be checked to ensure its fairness and reliability. This requires that a certificate be presented from one of 13 approved testing houses.
Bank requirements
The applicant must also bank within the Isle of Man, and their company has to have two directors and an operations manager based on the island (only necessary if the company wishes to display the nation's seal). An auditing process also occurs at random intervals to ensure that the license holder is living up to the responsibilities imposed by the Commission.
How much does it cost to obtain a gambling license in Isle of Man?
In addition to meeting requirements for fairness and security, the applicant must also pay of series of fees and taxes. These are listed in British pounds.
£5,000 – Administration fee charged during the initial application process.
£35,000 – Paid yearly for a full license. If the operator wants to allow foreign players on their server without re-registering player details, then they must obtain a Network Services license for 50,000 per year. A sub-license can also be obtained for 5,000 per year.
1.5% annual tax – for gross gaming yield below 20 million.
0.5% annual tax – for gross gaming yield between 20 and 40 million.
0.1% annual tax – for gross gaming yield above 40 million.
15% annual tax – for gross gaming yield from pool betting.
License Holders – Isle of Man Gaming Companies
As of this writing, there were 54 companies holding online gaming/gambling licenses in the Isle of Man. Here are some of the more notable examples:
Paddy Power Holdings Limited – Runs a total of nine websites, including the poker and casino gaming branches of the Paddy Power network.
Knockout Gaming Limited – Four sites are operated under their banned, including Knockout Gaming, Knockout Trading, and Knockout Casino.
Rational Entertainment Enterprises Ltd – Operates three websites for PokerStars, the biggest online card room on the planet.
Cozy Games Management Limited – With 78 websites in operation, this license holder is easily the most prolific. Examples include Velvet Bingo, Mambo Slots, Play2Win Bingo, and Lucky Admiral.
Rational FT Enterprises Limited – Prior to a 2012 relaunch (and a $184 million repayment to non-US customers), scandalized card room Full Tilt Poker managed to obtain licensing from the island nation.
Boylesports (IOM) Ltd – Operates five sites, including ApolloBet, BoyleSports, and BragBet.
Pacific Sea Invests SA (Europe) Limited – They run a total of four sites, and each revolves around the 12bet brand name.
Novigroup Limited – This rising force in the online gaming industry includes 666bet, Spinbet777, and StatusBet.
Velvet Bingo – A place where you can play online bingo and get to play a week for free.
Play2Win Bingo – Play2Win Bingo brings to you everything that you would expect from one of UK's top bingo game operators, a place where you can also play online bingo.
Mambo Slots – Reputed and reliable online casinos available to UK players, regulated and licensed by the official gambling commission
Notable Online Gaming Legislation – Isle of Man gambling supervision commission
The Isle of Man has enacted a wide range of gaming legislation over the years with the assistance of the Gambling Supervision Commission. Here are some of the most notable laws and regulations that apply to the online gaming industry:
Online Gambling Regulation Act 2001 – Provided for the regulation of various forms of gambling conducted by telecommunications. This act made it a crime to conduct an online betting operation in the Isle of Man without a license.
The Online Gambling (Advertising) Regulations 2007 – Further defined the requirements for online gambling marketing through print, radio, television, and Internet advertising. It also set requirements for any gaming site run by a license holder, requiring them to display numerous details on their homepage. This includes the name and address of its office, license number, Isle of Man coat of arms, links to Isle of Man government website, and a statement that anyone under 18 is not allowed to play.
Gambling Supervision Act 2010 – Further defined the functions and status of the Isle of Man Gambling Supervision Commission, added additional steps to the Commission appeals process, and made amendments to the Online Gambling Regulation Act 2001.
Money Laundering and Terrorist Financing (Online Gambling) Code 2013 – This is a code requiring greater oversight and risk assessment by license holders in order to combat illegal money laundering activities.
Player Complaint Process in the Isle of Man – Gambling comission complaints
The initial advice of the Commission is to contact the license holder about your problem. If this does not lead to a satisfactory resolution for both parties, you may then contact the Commission via email and fill out a complaint form. Before this step is taken, the player is urged to once again read the terms and conditions of the casino to ensure that there wasn't a misunderstanding.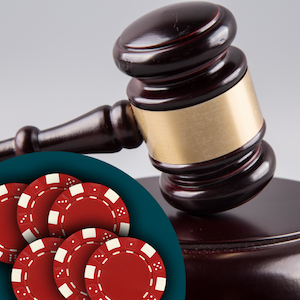 If you still believe the operator has committed an error, the next step is to send all evidence regarding the case to the Commission. This includes any correspondence between the player and customer service, as well as full contact details and account username.
Once this information has been received, the Commission begins their investigation. All the evidence provided by the player is reviewed, and the casino operator is also contacted and given a chance to respond.
After hearing both sides and reviewing the facts of the case, the Commission will then hand down a ruling. All decisions made by this governing body are considered final.
Are you looking for information on another jurisdictions?
If you are looking to understand the different and main jurisdictions where online poker rooms are available legally you can easily see our descriptive help towards open information.