Best Mobile Poker Sites
Mobile poker sites are a boon to the modern card player, as individuals are no longer shackled to their Mac or PC. Instead of being confined to a home or business, tech-savvy poker pros can now play straight for their smartphone. Players can enjoy a hand of Omaha or Texas Hold'em at the coffee shop, doctor's office, or anywhere else they desire.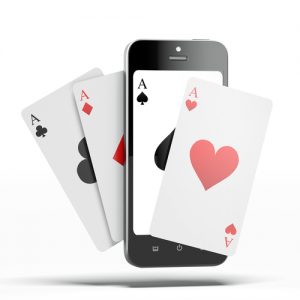 This article looks at the basics of playing mobile poker:
While reading this information isn't going to help you in a showdown, it will allow you to get out of the house and enjoy poker in a more stimulating environment.
Play at the Best Mobile Poker Sites
Top Poker Sites
Rank
Poker Site
Payment Grade
Bonus
Play Now
What is a Mobile Poker Site?
As you may have guessed, mobile poker is simply poker that can be played on a mobile device such as a smartphone or tablet. These devices allow players to get their gambling fix from any location with wireless service, and it's primarily available for devices compatible with Windows, Android, and Apple products.
How to get started?
If you're interested in playing on a mobile poker site, you have two distinct options:
Direct access from your smartphone. Use your device to access the online version of the card room. This is just the same as playing at home, although you'll likely be doing it from some other location (unless you don't have a PC at home).
Downloading an application. In order to play in this fashion, you'll need to visit a site such as Google Play or App Store and find the poker app you're interested in. Once this has been accomplished, it's just a matter of downloading it to your device (usually for free).
Once in the poker site or app, you'll be able to open an account and make deposits, just the same as a non-mobile customer. Please note, however, that making transactions over public Wi-Fi can result in your private information being hijacked by others. If you want to fund your account, it's best to wait until you're away from locations such as bars and coffee shops.
I suggest using the second option, as apps are specifically designed to offer a more streamlined experience for mobile players. The layouts are wider and buttons bigger, which keeps you from accidentally choosing the wrong option in the middle of a poker game.
Start Playing at the Best Mobile Poker Sites
In the past, a list of mobile poker sites might have been somewhat selective. That's no longer the case, as online card rooms and casinos have realized that mobile gaming is the wave of the future. Whether it's an online giant like PokerStars or a lesser-known outfit like DuckPoker or Silver Sands, customers should be able to find an app to meet their needs.
Real Money Poker on Mobile Sites
Of course, if you want the thrill of playing mobile poker for real money, you'll need to go to a mobile casino and click on the poker app there. Legitimate mobile casinos offer poker apps for Android and IOS devices. Many times, you'll find poker apps for BlackBerry and Windows Phone, too.
While Google Play and iTunes Apps Store poker apps help you learn the game and master your strategy, once you learn how to play Texas Hold'em, go to a mobile casino to play for real cash. Read through our mobile casino reviews:

Select an option to begin playing for real money on your Android smartphone or iPhone.
Available Games for Mobile Players
The availability of games differs from one poker site to the next, but you should expect to find Texas Hold'em and Omaha at all of them. Larger sites are likely to have additional games, and companies such as PokerStars offer their customers ring games, tournaments, and sit and go's. If you're looking for a specific type of game, just check to make sure it's available via mobile device before signing up.
Free Poker on Mobile Sites
Google Play and the iTunes Store each have hundreds of free poker games. Many applications allow people to play on social gaming sites with online friends, while other provide games of Texas Hold'em or Omaha against virtual opponents. Some of the gaming apps you'll find are totally free, while others have freeplay as an option with in-app purchases for enhanced play.
Android Poker Apps
Google Play has 242 free poker apps. These range from famous poker gaming apps like and World Series of Poker (Playtika) and Zynga Poker (Zynga) to obscure applications like Poker Espana (Artrix Limited) and Poker With Bob (Scary Robot). Some of the Android poker gaming apps listed involve other games, like video poker and Pai Gow poker. Some are Texas Hold'em tools, such Poker Calculator by Perun Labs and Poker Odds Calculator by Youda Games. You can find official poker apps like PokerStars Play, Golden Nugget Poker.com (Bally Technologies), and Poker Night in America. Or you can find games endorsed by celebrities, like Floyd Maymeather's WildPoker gaming app.
How to Play: To play with an Android smartphone or tablet computer, go to Google Play and type in either "poker", "Texas Hold'em", or "Omaha poker". Click to select a poker app. Click "Install" to download the app. Choose the game you want and begin playing poker for free.
Benefits: Play live with friends. Improve your game with poker statistics. Simulate the WSOP Main Event. Receive a Facebook connect bonus using Playtika. Bonus Chip Every 4 Hours. Join exclusive events.
Top Rated App: World Series of Poker: WSOP Free Texas Hold by Playtika (Rated: Teen)
iPhone Poker Apps
The iTunes Apple Store has popular games like Zynga Poker and WSOP Poker, but its top-rated poker app is Texas Holdem Poker: Pokerist by KamaGames. The PokerStars official poker app has a similar high rating, but it is an actual real money mobile poker app for the UK and certain European jurisdictions. For totally 100% free play, the highest rated iPhone poker app is Texas Holdem Poker: Pokerist. Pokerist provides social poker experiences playing either Texas Hold'em or Omaha Holdem.
How to Play: Go to iTunes Apple Store using your iPhone or iPad. Input "Texas Holdem Poker", which should return the selection. Finding free apps might be harder than Google Play, so be patient. Find the game from Pokerist, which has a 4.8 rating at the Apps Store. Click to download.
Benefits: Learn to play Texas Hold'em. Play in 32 languages. Constantly updated iPhone poker app. Track progress on your own profile page. Chat with other players. Smooth interface. Get rewards and unlock achievements.
Top Rated iPhone Poker App: Texas Holdem Poker: Pokerist by KamaGames (Rated: 12+)
Elements of a Quality Mobile Card Room
If you want to play at a high-quality mobile poker site, make sure it includes some of the following elements:
Convenience of Design – Is the site easy to navigate? Are the buttons large enough to prevent costly mistakes during gameplay?
Transaction Options – Do you have access to the same deposit and withdrawal options as PC users? This is especially important for those who use multiple payment options to move their funds about.
Bonuses – Most sites offer the same sign-up and deposit bonuses for mobile and PC customers. In some cases, however, special offers may be available for smartphone and tablet users.
Security – While a master hacker might still gain access on a public Wi-Fi connection, the software should be solid enough to guarantee of the basic level of security.
Traffic – A large pool of players is important, so make sure the app draws enough customers to make it a viable option.
Reliable Software – In addition to being secure, software should be reliable when it comes to speed and connection strength. There's nothing more frustrating than having your signal drop out while you're working on winning a big pot.
Conclusion
Mobile poker sites are the future of online gambling, and it wouldn't surprise me if they've entirely replaced PC or Mac gaming in a couple of decades. Virtual card rooms are wising up to this fact, which is why all reputable brands now offer one or more mobile options for their customers. While there's nothing wrong with playing Internet poker the old-fashioned way, modern apps offer the same features as the original and the added convenience of being more portable.