Bovada Poker Review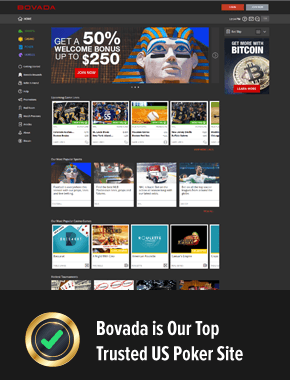 Bovada is the US version of Bodog. Bovada was a brand created specifically for American sports bettors and poker players. The group has more than 20 years of online gaming experience.
Bovada is a member of the PaiWangLuo Network. This platform was once known as Bodog. It launched in 2004.
Bovada moved its online poker product to Ignition Casino in August 2016. Online poker returned to Bovada almost one year later. While it uses the same skin as Ignition, it now has a different first deposit bonus. Both sites accept US players. Players in Delaware, Maryland, Nevada, New Jersey and New York are not permitted to play at Bovada.
The Bovada brand is often mentioned when the media quotes odds and prices on sporting events in the United States. This includes cable TV and radio shows.
The PaiWangLuo Network is the largest that accepts US players, overtaking Winning Poker in 2018 as the #1 network. Play against these players at Bovada.lv poker.
Bovada Poker - #1 in the U.S
Bovada Poker Bonuses
Welcome Bonus for Poker Players
Bovada offers new players a 100% up to $500 first deposit bonus. This is available to any player that has never claimed a bonus on PaiWangLuo. The bonus releases in six increments based on the following chart:
| Level | Poker Points | Bonus Issued | Total Bonuses |
| --- | --- | --- | --- |
| 1 | 15 | $5 | $5 |
| 2 | 85 | $20 | $25 |
| 3 | 185 | $25 | $50 |
| 4 | 500 | $50 | $100 |
| 5 | 1,500 | $150 | $250 |
| 6 | 5,000 | $250 | $500 |
Bovada Poker Points
Players earn three Poker Points for every $1 in a tournament and sit and go admin fees paid. Cash game players earn Poker Points when contributing to a pot based on its size:
| Rake | Points |
| --- | --- |
| $1.00 – $3.00 | 1.00 |
| $0.50 – $0.99 | 0.50 |
| $0.25 – $0.49 | 0.25 |
| $0.05 – $0.24 | 0.10 |
| $0.01 – $0.04 | 0.05 |
Sign up at Bovada Poker to claim your Welcome Bonus and start earning Poker Points.
Poker VIP Program – The Red Room
Bovada has a simple, yet effective VIP program, what they call the Red Room. Members of the Red Room VIP program are said to receive special treatment in the ways of:
Exclusive cash rewards and offers.
Score weekly deposit bonuses.
Receive personalized customer service.
Exclusive Red Room offers.
Convenient deposit options.
Free expedited payouts.
How to join Bovada Red Room?
This program is open to all members of Bovada, whether they are playing poker, casino games, or betting on sports. Contact a customer service representative to learn how to join the Red Room.
Casino and Sportsbook Bonus Offers
In order to recruit new players and retain old ones, Bovada constantly provides special promotions and bonus offers. In this section, we'll be looking at some of the perks previously dangled in front of customers. And since these offers are frequently recycled, you can expect to see them again in the future.
Before we continue, I want to explain rollover requirements for those who may not be familiar with them. When a casino awards you bonus money, you usually have to satisfy some form of wagering requirement before you can withdraw the "free" cash.
Let's say, for example, that a poker room has a 30X rollover requirement on bonus money. If you received a complimentary amount of $300 from the house, this means that you'll need to make $9,000 in wagers before the $300 can be withdrawn. The wagers can result in a win or loss, but they must be made in order to qualify.
Rollover details are usually buried in the fine print, and many novice players make the mistake of never reading below the big letters promising free money. They are usually less than pleased to learn the truth, especially when their withdrawal request on the bonus money is declined due to a failure to abide by the terms and conditions of the site. Just remember: nothing is ever as free as it seems at an online casino or poker room.
100% Welcome Bonus
All the money deposited into your account on the first day will be matched up to 100% (with a limit of $1000). In order to get the bonuses issued to your account, you'll need to earn poker points during the 60 days immediately following your initial deposit.
Poker points are earned by either contributing to a rake or spending money on tournament entry fees. For example, a tournament with a $50 buy-in and a $5 fee would earn you 15 poker points.
While the 100% sounds great, it's not so lucrative once you start reading the fine print. You have to play a lot of poker in order to unlock the bonus money, and there's a decent chance that you'll end up losing money in the process.
Refer-A-Friend Bonus
For each new customer who you refer to Bovada, the site will award you with 200% of their initial deposit (up to $100). Of course, there are still limitations to this seemingly generous offer. For each dollar earned in bonus money, the player needs to earn 3 poker points in order to collect the cash.
Mobile Casino Bonus
The first time you play at Bovada with your mobile device, you'll be awarded a $10 bonus. In order to withdraw this money, however, you'll need to wager a minimum of $250 between Monday and Sunday on any of the site's next-level casino games (including several variations of draw poker).
Bovada Poker Deposit Methods
Bovada offers four deposit options to US players.
Bitcoin Deposits at Bovada
The most popular deposit method is Bitcoin. There are no fees associated with this form of deposit method. Bitcoin deposits are extremely secure and is becoming one of the most trusted banking options poker players are using today.
Poker players can deposit anywhere from the minimum $20, up to the maximum $5,000 using Bitcoin per transaction. The money reaches your Bovada account within minutes.
Credit Cards: VISA and MasterCard
VISA and Mastercard are accepted. There is a 4.9% fee for VISA transactions and 6.9% fee for Mastercard ones. Players that deposit at Bovada by credit or debit card will need to fill out an authorization form before a withdrawal will be processed.
Using VISA or MasterCard allows players to make minimum deposits of $20, and maximum deposits of $1,000 per transaction. The benefit of using credit cards is that the transaction is done instantly, like paying for anything online.
Cash Transfers
Cash transfers are available for small deposits. The fee is usually about $10. Bovada will add this to the player's account for deposits of $300 or more.
When you join Bovada Poker, you can be sure you will have safe and trusted deposits methods.
Bovada Poker Withdrawals
There are three ways to withdraw from Bovada.
Secure Bitcoin Payouts
Bitcoin is the fastest. Players receive these withdrawals in about 2-6 hours, or less, up to one day. There is no fee when you get the payout using this method. The maximum withdrawal amount is $9,500 per transaction. You can request a payout from Bovada every 5 days.
Courier Checks
Bovada will courier checks in amounts up to $3,000, and you can request one check payout every 7 days. The payout fee of $50, but this is waived once every four months. It takes 1-2 weeks for a check to be delivered.
Reputable Bank Wires
Large winners have bank wires available to them. The cap is $25,000 per transaction. The fee is $50, in addition to what is charged by the banks handling the transaction. These arrive in about two weeks.
Available Poker Games at Bovada
Bovada offers the following poker games:
No Limit Texas Hold'em
Fixed Limit Texas Hold'em
Pot Limit Omaha
Pot Limit Omaha Hi/Low
Limits start at $0.02/$0.05 and run up to 10/20. Sit and gos generally have action up to $33.
Bovada Poker Tournaments
Bovada spreads dozens of poker tournaments each day. Most are No Limit Texas Hold'em. There are a few Pot Limit Omaha and Pot Limit Omaha Hi/Lo games on the daily schedule. Buy-ins start at $1.10 and run as high as $109 on the dailies.
Bovada $100,000 Guaranteed Tournament
Bovada Poker runs a $100,000 guaranteed tournament every Sunday at 4pm ET. The direct buy-in is $162. There are several other ways to enter.
Super satellites run all week. These start at $1.10 and send a player to a semi-final for every $17 in the prize pool. There are satellites that start on Thursday with buy-ins of $17. The weekend brings turbo events with lower juice and higher buy-ins. The largest is $42.
Bovada Guaranteed Tournaments
While the $100,000 guaranteed is the largest weekly event, there are dozens of other guaranteed tournaments. The weekly guaranteed prize pool is $1.5 million. These tournaments are generally spread at night based on Eastern Time. The main daily events are:
| Time (ET) | Tournament Name | Guaranteed Prize Pool | Buy-in | Starting Chips |
| --- | --- | --- | --- | --- |
| 8:00 PM | $25,000 Guaranteed SS | $25,000 | $55 | 5,000 |
| 8:30 PM | $8,000 Guaranteed DS | $8,000 | $11 | 2,500 |
| 8:55 PM | $12,000 Guaranteed | $12,000 | $109 | 2,500 |
| 9:00 PM | $10,000 Guaranteed SS | $10,000 | $22 | 5,000 |
| 9:15 PM | $15,000 Guaranteed | $15,000 | $55 | 10,000 |
| 10:00 PM | $10,000 Guaranteed Turbo SS | $10,000 | $109 | 5,000 |
| 10:15 PM | $10,000 Guaranteed (10K Chips) | $10,000 | $11 | 10,000 |
| 11:00 PM | $5,000 Guaranteed Turbo SS | $5,000 | $33 | 5,000 |
If you want to play poker at the tables or in tournaments, sign up at Bovada to test your skill against thousands of other players.
Bovada Poker and Player Features
Zone Poker at Bovada
Zone Poker is a fast-fold variant. This is where players rotate tables after every hand. Once the player folds, the current table closes and he or she is seated at a new one and gets dealt cards. This increases the number of hands per hour by three or four times because there is no more sitting around waiting for a hand to end. A player can fold before the action ever gets to that position to make the games move faster.
Zone Poker is available in No Limit Texas Hold'em with limits from $0.02/$0.05 up to $1/$2. Pot Limit Omaha is spread from $0.02/$0.05 up to $0.10/$0.25. Pot Limit Omaha Hi/Lo is offered with $0.02/$0.05 blinds.
Quick Seat Feature
Poker at Bovada does not have a typical cash game lobby. Players cannot choose which table they would like to sit. The software chooses seating for them. This is done by the player filling out a form that asks what game, limit, format, and number of seats that the player is looking for and automatically finding that seat.
Bovada Poker does this to protect players at the tables from getting hunted by sharks. It helps keep weaker players in the game longer.
Anonymous Tables
Another feature that helps protect recreational players is anonymous tables. All names have been removed from Bovada Poker. Each player seated at a cash game is given a number that stays with them until they leave the table. In tournaments, players are given a number that stays with them until the tournament ends or they are knocked out.
How to Play Poker
Bovada offers their members a section where they cover the basics of poker; veterans can skip it without any problem. For novices, however, you'll be presented with a wealth of information on Texas Hold'em, Omaha, Omaha Hi/Lo, 7 Card Stud, and 7 Card Stud Hi/Lo.
News and Blog Articles
Check out the collection of musings on gambling, poker, and the people who enjoy it. Read about poker strategy, learn the latest news, or just enjoy a few laughs.
Bovada Poker - #1 in the U.S
Is Bovada Poker Safe or Rigged?
Bovada is related to the Bodog brand. Bovada Poker was created for US players so that Bodog could enter regulated markets. There is little difference between the two sites. Both have the same online gaming experience that goes back decades.
Bovada has never had any scandals. Bodog's founder and some other employees were indicted in 2012. This did not amount to anything except some misdemeanor convictions. Bodog and Bovada continued to pay players in a timely manner.
Anonymous Feature
At most poker sites, players can use tracking software to find inexperienced fish to feed on. This is never the case at Bovada Poker, as players can enter any game and remain anonymous. This allows players to grow in experience without being hounded all over the site by bloodthirsty sharks.
It Makes No Sense
Why would an organization as respected as Bovada risk their reputation by resorting to cheating? They make their money by collecting the rake and receiving buy-in fees, so it really doesn't matter to them who wins or loses; they get their percentage regardless of the outcome.
In this era of social media, people love to spill their guts about everything. If an employee knew that something illegal was going on, how long do you think it would take him or her to blow the whistle (especially if they were unhappy with their current employment situation)?
Experience in the Industry
When you consider that Bovada (originally Bodog) has been around since the turn of the century, you have to take into account their level of experience at running an online gambling operation. Most poker rooms that cheat are fly-by-night operations, designed to rook as many players as possible before disappearing into the shadows with their ill-gotten gains. Bovada has always stood in the light of day, dealing with questions and concerns in an open and courteous manner.
Lack of Player Complaints
Go to any gambling forum and try to find complaint threads about Bovada Poker. The chances are high that you'll come up empty. They value their reputation among the gambling community, and their professional customer service staff bends over backward to keep that trend alive. If a problem does arise, expect it to be resolved with incredible speed.
Is It Legal to Play Poker at Bovada?
Bovada Poker does not accept players from five states where it believes there are questions about legality. Those are Delaware, Maryland, Nevada, New Jersey and New York. Players in all other states are welcome.
Most states have no laws about players giving action to offshore sites. Louisiana and Washington are among those that do. Nobody has ever been convicted of this crime in any state. Always check local regulations while also understanding that players have never been the target of any type of investigation by state law enforcement.
Why is Bovada legit?
Bovada is a legit online casino, sportsbook, and poker site. While Bovada was launched in 2011, it is the natural successor to Bodog, an online gaming brand which has been around since 1994. Bodog chose to leave the United States online gambling market in 2011, so a new site with the same combination of proprietary Bodog software and licensed RTG and Rival Gaming software.
For 5 years, Bovada was licensed by the Kahnawake Gaming Commission. In September 2016, Bovada voluntarily gave up its license from Kahnawake, because that Canadian-based regulator told license holders they could no longer accept players from New Jersey, due to a deal with New Jersey's Division of Gaming Enforcement. Bovada, therefore, is an unregulated online gambling site, though it is a respected offshore operator.
Delaware
In 2013, Delaware passed a law to conduct regulated online gambling within the borders of the state. The idea was to generate revenue by allowing select operators to conduct business by charging a $500,000 licensing fee and a 100% tax on the first $3.75 million of their winnings. Since Bovada Poker is not one of the operations willing to pay the state, they have decided to pull out of Delaware. No new players will be accepted, although existing players can still play with the money they have in their account (although no new deposits can be made).
It's interesting to note that Delaware's regulated gambling hasn't been especially successful during its first year of operation. Numbers have been lackluster to begin with, and they've been steadily dropping as time goes on. Then again, we're talking about a state with less than a million residents, many of whom don't have the time or inclination to gamble.
Nevada
When you think gambling, Las Vegas is probably one of the first things that comes to mind. Sin City has been offering games of chance for decades, and they've become synonymous with instant millionaires and broken dreams. When the iGaming movement started up in post-UIGEA America, it was only natural that they would be among the first to participate.
According to state legislation, a gaming company can legally offer their services to a player as long as (a) the company is licensed and regulated by the state, and (b) the player is physically present within Nevada.
In order to avoid possible legal complications, Bovada announced its intentions to pull out of the Nevada market in June of 2014. This looks to be a smart move in hindsight, as even the capital of American gambling has met with a lukewarm response when it comes to iGaming.
Three regulated online casinos were originally offering games to customers within the state boundaries of Nevada. And while revenue rose during the annual World Series of Poker event in Las Vegas, the following months revealed an alarming downward drop.
The most obvious sign of trouble came in November 2014, when licensed online casino Ultimate Poker decided to close its doors in Nevada due to lack of business. This was the first company to launch regulated online poker within the United States.
Hawaii
While residents of Hawaii get their fill of poi and Don Ho, the same can't be said for gambling. The state is notorious for its intolerance towards games of chance, and you won't find a single casino or bingo hall anywhere on its islands.
Washington
The state of Washington has tough laws regarding gambling, and this even extends to the world of virtual gaming. Fortunately, these laws are directed at operators instead of players, and gamblers located within the state can still legally play as long as their virtual casino of choice is located elsewhere.
On the flipside, lawmakers in Washington State have caused such a stink that Bovada Poker no longer accepts players from within its borders. If you attempt to log on from an ISP within the prohibited area, you'll be greeted by the following message: "We are sorry. We do not accept registrations from your state. For more information, please contact us."
Maryland
This state has several land-based casinos, although it sounds like they're filled with drunks and madmen. They also have a number of laws that specifically prohibit betting, and, unlike most states, the penalties for individual players are just as strong as those reserved for gaming companies. In other words, the gambling laws in Maryland are a mess. If betting is supposed to be prohibited, how can you have multiple casinos within your state? For that matter, why did they approve a statewide online lottery?
Bovada obviously doesn't have time to ponder such questions, as they pulled out of Maryland and refused to accept any new players from the state. Players who already had an account prior to the ban are still allowed at the poker tables, although they're prohibited from placing any additional funds into their account (although winnings can still increase the size of your bankroll).
New York
If you want to gamble in New York, you have plenty of options to choose from. In addition to the legendary state lottery, there are bingo halls, tribal casinos, and various forms of racing. But the primary source of revenue comes from commercial casinos and licensed online gambling, and in 2014 these combined to provide over 14,000 jobs and generate over $3.6 billion in revenue.
Like many other states that have turned to regulated online gambling, New York has attempted to squeeze out all those who fail to meet the necessary requirements (in other words, those who refuse to pay the state a huge fee). This certainly worked with Bovada, as they no longer accept players who are residents of the Empire State.
New Jersey
Atlantic City was once a major venue for gambling, but recent years have seen it fall on hard times. The state saw four casino closures take place in 2014, but they hoped the regulation of online gaming would act as a counterbalance. This has proven unsuccessful to date, and the frustrated New Jersey Division of Gaming Enforcement even took the bold step of going after affiliates who were promoting gambling sites that were unlicensed in the state.
Bovada Poker announced in May of 2014 that it would no longer accept new players from New Jersey. Existing players are still able to keep their accounts, however.
Utah
This Mormon dominated state is decidedly hostile towards most types of vice. There are no bars to be found, which has drawn a less-than-enthusiastic response from both visitors and some locals. In fact, the NBA's Utah Jazz has been forced over the years to watch more than a few free agent players slip through their fingers because of the almost total lack of nightlife within the state.
Legal Poker Gambling Age
It should also be noted that Bovada Poker requires all players to be at least 18 years of age before they can sit down at a virtual poker table and risk their hard-earned cash.
The idea is that anyone younger than 18 may not have the necessary good sense to know when to quit gambling. I would argue that this probably applies to anyone under the age of 100, but I digress.
There are a number of states, however, that require their residents to be 21 before participating in any sort of online gambling. So, while the casino may still accept your business, you may technically be in violation of state law while taking part. This probably isn't going to worry too many of our readers, but I felt obliged to mention it.
The Final Verdict on Bovada Poker
Bovada is the second largest poker site that accepts US players. It has a long history of paying withdrawal requests quickly. There's no reason to think that will ever change.
The company has two decades of online gaming experience. There were no signs of trouble when the company was indicted and that case was settled with a slap on the wrist. Payouts from Bovada Poker, its predecessor Bodog and its sister site Ignition, have been quick and reliable throughout the group's entire existence.
We feel that Bovada is one of the top trusted poker sites that accept US players. We highly recommend it.
Bovada Poker - #1 in the U.S
History of Bovada
Once upon a time, there was a gambling site known as Bodog.com. Founded in 2000, it was the brainchild of Canadian businessman Calvin Ayre. It positioned itself as one of the leading names in the online gaming industry.
While business was respectable in the early years, nothing could have prepared them for what was to come. I'm talking, of course, about the World Series of Poker main event wins by Chris Moneymaker and Greg Raymer.
Both of these men qualified for the WSOP by playing in online tournaments, and both became household names (at least for a while). Soon, people all across the globe were signing up with online casinos and poker rooms, convinced that a massive payday was right around the corner. And while suburbanites wagered their mortgage payments in a bid for fame and fortune, Bodog and its contemporaries were all too happy to accept their business.
While this explosion of business occurred, Calvin Ayre could've lurked quietly in the background and counted his money. Instead, he decided to craft a new image, one that depicted him as a modern-day James Bond surrounded by fast cars and beautiful women. His picture was plastered all over the Bodog site, and their marketing scheme promised potential players a chance at the same luxurious lifestyle as the company's founder. They even dabbled in the music business and MMA fighting, although these failed to enjoy the same success as their gaming ventures.
But then Bodog encountered a major bump in the road thanks to the 2006 passage of the Unlawful Internet Gambling Enforcement Act. According to this legislation passed by the Bush administration, gambling businesses were now prohibited from knowingly accepting payments in connection with a wager involving the Internet that was unlawful under any state or federal law. Payment systems were also required to identify and block restricted transactions.
Most online gaming sites pulled out of the American market, especially when the Justice Department began arresting company heads who foolishly ventured onto U.S. soil. Ayre and his company defiantly fought on, but he eventually wised up and sold his business to Meadway Leisure Limited (while retaining the rights to the still-marketable Bodog brand).
The deal between Meadway and Bodog ended in July of 2011, and customers were transferred to the company's newly branded site, Bovada. Since then, business has continued without a hitch, although with a different name at the top of the page. Despite the drama, the company remains an industry leader and continues to accept U.S. players.
The legacy of Calvin Ayre, it seems, lives on in a big way.
FAQ
Players might have questions they want to be answered about Bovada Casino. The following Bovada FAQ provides answers to common questions skeptical US players might have about Bovada. If you have other questions, send your inquiries to our webmaster for further answers.
Does anyone win on Bovada?
Yes, winning is possible at Bovada. A prominent online casino's reputation quickly spreads, if the site runs an unfair game. Bovada has a solid reputation in the US gaming market. Players complain that the withdrawal times could be better, but they are reliable. Pending time for withdrawals is 48 to 72 hours. Bank wire transfers take 7 to 10 days, while bank checks arrive in 7 to 28 days. The weekly withdrawal limit is $3000, so high rollers could have issues, though Bovada customer service will increase payout limits for members of the Red Room membership tier. The Red Room includes Bovada's high stakes gamblers.
Does Bovada accept Mastercard?
Absolutely. Bovada accepts MasterCard, Visa, American Express, and Bitcoin wallets. MasterCard is available for deposits, though you won't be able to make a withdrawal with MasterCard, Visa, or Amex. When you make a withdrawal, you'll need to use a courier check, which means you'll receive a payment at your home address from a FedEx or UPS courier. Direct or fast bank transfers also are available. The accepted currencies are the US dollar and bitcoins. If you want a one-method way of making deposits and withdrawals, you'll need to use Bitcoin.
Does Bovada have an app?
Yes, Bovada has an app for mobile sports, casino games, and poker. Go to the Bovada Mobile page to scan the QR Code into your Android smartphone or tablet computer, iPhone, or iPad.
Does Bovada payout to US players?
Bovada pays out to US players. For legal purposes, Bovada does not accept play from 7 US states. Players from the remaining 43 US states and the District of Columbia are welcomed at Bovada for online casino, poker, and sportsbook betting. These players are allowed to gamble in a safe, secure, and fair environment.
How is Bovada legal?
Lynton Limited's base in New Zealand provides it with a place to operate legally. New Zealand does not allow online gambling sites based in New Zealand to accept real money play from Kiwis, but those sites can accept play from other countries. Because Canada and the United Kingdom enforce the Division of Gaming Enforcement's ban on non-licensed online casinos and poker sites, Bovada does not accept players from the UK and Canada. US officials consider Bovada an unlicensed and unregulated offshore gambling site. While United States officials frown on unlicensed online casinos, they do not prosecute American gamblers who play for real money on such sites.
Who owns Bovada?
Bovada is owned by Lynton Limited, a gaming group which owns Ignition Casino and Slots.lv. Lynton Limited had a mailing address in Kahnawake, Quebec in Canada until 2016. Lynton Limited has been in business since 1999, with New Zealand listed as its home country for many years. Lynton Limited should not be confused with BAA Lynton Limited, a property development company founded in Leeds, England in 1997. Though gaming sites sometimes report Garcia Bilboa and Ignacio Aitar of BAA Lynton Limited being associated with Bovada and Slots.lv, that is not the case.
Bovada is Our Top US Poker Site
Bovada Poker - #1 in the U.S