European Poker Sites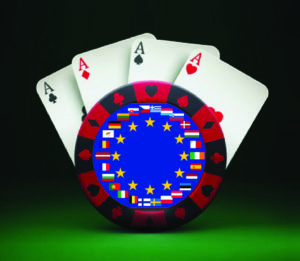 If you live west of the Atlantic Ocean and love to wager on card games, European poker sites may be just what you're looking for. Some are practically household names among the gambling community, while others are only available in a specific country or state.
Regardless of which option you have access to, you'll find that playing poker in Europe is both fun and challenging. With the right amount of skill and a little luck, it can also be surprisingly profitable.
Play in the leading Poker Sites for European Players
Top Poker Sites
Rank
Poker Site
Payment Grade
Bonus
Play Now
Best Poker Sites in Europe
Players have a lot of options to choose from when it comes to European online poker. The following is a brief rundown of some of the leading sites, although dozens more can be located with a little research. Before you sign up at any virtual card room, I suggest reading in-depth reviews to make sure it offers what you're looking for. These are our suggested, top rated, European online poker sites:
PokerStars – The largest online poker room on the planet. Based in the Isle of Man, they recently re-entered the U.S. market on a limited basis.
PartyPoker – This site has been around since 2001. Traditional games are available, but the site also places an emphasis on achievements and missions to keep longtime players and social media junkies interested.
888 Poker – Aimed at casual players, this is the second largest poker site. Offers webcam tournaments, an impressive number of cash games, and much more.
European Poker Sites Tournaments
The European Poker Tour were a series of high profile live poker tournaments televised on Sunset + Vine for European viewers. The EPT began as a series of 7 poker events in 2004, rose to as many as 13 tournaments in the peak years from 2007 to 2011, and consists of 6 events over the past several years. Over the years, the European Poker Tour has broadcast 13 seasons of events.
Traditionally, the best European poker sites advertised during the live European Poker Tour events. Since 2011, PokerStars has been the official sponsor of the European Poker Tour. The most prestigious event on the European Poker Tour is the EPT Grand Finale, which takes place in Monte Carlo in late-April and early-May each year. The EPT Grand Finale is the season finale on television, though most EPT live poker events tend to have similar prize pools and prestige.
EPT events took place at many of the famous casinos across Europe. Barcelona, London, Dublin, Baden, Copenhagen, Warsaw, Prague, and Monte Carlo were the most common locations for EPT tournaments. In 2017, PokerStars did not schedule European Poker Tour after 13 seasons. Instead, the official site directed to the PokerStars Championship site, which now hosted the most popular European poker tournaments with the biggest prize pools of 2017. Starting in 2018, the EPT has returned.
European Poker Tour 2018
The European Poker Tour took a one-year hiatus in 2017, but is back with a 4-stop schedule in 2018. The EPT Main Event has a €5,300 buy-in for the tournaments in Monte Carlo, Barcelona, and Prague. For the EPT Sochi Main Event, the entry fee is a little over $3300. Poker players can player on PokerStars's European poker sites to qualify through a series of satellite events leading up to each tournament. These European poker tournament qualifiers run each week throughout the year on PokerStars. As one would expect, PokerStars's various card rooms will be the best poker sites for Europe poker players to qualify.
How to Play: Enter 1 of 4 EPT events throughout 2018: EPT Sochi, EPT Monte Carlo, EPT Barcelona, or EPT Prague.
Benefits: The biggest prize pools in live European poker tournaments. Prestige of winning an EPT poker event. Rankings on the EPT Leaderboard.
Real Money Prizes: Prize pools reaching €2,600,000 or more.
2018 EPT Tournament Schedule
The European Poker Tour just announced in December 2017 it would have four tournaments throughout 2018, in Sochi, Monte Carlo, Barcelona, and Prague. Events begin in March 2018 in Sochi, so more information is available about the PokerStars tournament in the Russian Federation than the other three. As the guaranteed prize pools for EPT Monte Carlo, EPT Barcelona, and EPT Prague are announced, we'll update our information. Bookmark this page to get the latest news updates.
2018 EPT Sochi
Event Dates: March 20-29, 2018
Where: Sochi Casino and Resort, Krasnodar Region, Russian Federation
Main Event: $3,322 Buy-In, Qualify thru PokerStars satellite events.
Benefits: Platinum Passes worth $30,000, Meet Team PokerStars Pros, Access to Players' Lounge, Players' Party including Guests.
Real Money Prizes: $2,600,000 prize pool for the EPT Main Event.
2018 EPT Monte Carlo
Event Dates: April 24 to May 4, 2018
Where: Sporting Monte-Carlo Building in Larvotto, Monaco
Main Event: €5,300 buy-in, plus online PokerStars qualifiers throughout the year.
Benefits: Visit the French Riviera, win $30,000 Platinum Passes, Become an EPT Champion, Win nearly €1 million for 1st place.
Real Money Prizes: Still Unreleased.
2018 EPT Barcelona
Event Dates: August 21 to September 2, 2018
Where: Casino de Barcelona, Calle Marina, Barcelona, Spain
Main Event: €5,300 Buy-In, or qualify thru PokerStars online satellites.
Benefits: Play in a €10,300 Buy-in High-Roller Event, win $30,000 Platinum Passes, Become an EPT Champion, Win nearly €1 million in online poker real money in Europe's tourist-friendly Barcelona.
Real Money Prizes: Still Unreleased.
2018 EPT Prague
Event Dates: August 21 to September 2, 2018
Where: Hilton Prague, Pobrezni 1, Prague, Czech Republic
Main Event: €5,300 Buy-In, or qualify thru PokerStars online satellites.
Benefits: Play in a €10,300 Buy-in High-Roller Event, win $30,000 Platinum Passes, become one of four 2018 EPT Champions, Win nearly €1 million for 1st place.
Real Money Prizes: Still Unreleased.
Playing Online Poker in Europe
While people from other parts of the world may regard Europe as one big homogenized landmass, locals realize that there's often a great deal of difference between the 50+ countries that make up the continent. These variations often crop up in areas such as human rights, religion, and general social attitudes, but they can also have an impact on online games such as poker.
Below, I've included a small number of European countries and their current attitude towards online poker. This should give you an idea about the diversity of Europe, as well as the importance of doing more in-depth research before opening an account at an online card room.
France – Poker, along with horse racing and sports betting, are legal online gambling options in France. If a poker room wants to accept French players, they're supposed to receive a license from a governing body known as ARJEL.
---
Spain – As long as they're licensed for operation within the nation, poker sites can accept Spanish players without breaking local laws.
---
Russia – Current laws forbid Russian citizens from participating in online gambling, although plenty of offshore sites still accept customers from the country. Recently, officials have looked at the possibility of legalizing online poker as a way to stimulate the economy.
---
United Kingdom – All forms of online gambling are legal, and sites can operate within the law by receiving a license from the UK Gambling Commission.
---
Germany – While online gambling was once illegal except for state monopolies, the laws have changed to allowed licensed outside companies to provide a variety of betting options.
---
Italy – Licensed sites can legally provide poker, sports betting, and casino gambling to the citizens of Italy.
---
Norway – With the exception of two state-run companies that offer lotteries, keno, and sports betting (as well as a few other options), gambling within Norway is prohibited.
Differences between American & European Sites
While all online poker sites have certain elements in common, a closer looks reveals a world of difference between sites specializing in American and European customers. In this section, we'll look at a few of the most prominent variations.
Software and support
When it comes to software and support, sites that cater to American players tend to have superior navigation. While this isn't always the case (especially among larger Eurocentric sites), it's worth noting, as poorly-designed navigation features can lead to misreading the board or clicking on the wrong option in the middle of a hand. As far as customer support goes, smaller European poker sites can sometimes make you wait 24 hours or longer for a response.
Better player rewards
Player rewards are strong on both sides of the Atlantic, but European poker sites have an advantage if you're looking for high rakeback, points for cash, and bonuses for deposits and reloads. For those who like to use their accounts to buy merchandise, you'll often find a larger selection of items at American-friendly poker rooms.
Playing style
As far as the actual style of play, U.S. and European poker players are quite different. American sites tend to have games that focus on the traditional style of play, with lots of preflop action. Europeans love to call, and you'll find a greater amount of action after the flop. Players trying to transition from one style of play to the other can often encounter a fair amount of difficulty in making the adjustment.
Conclusion
European poker sites are available in abundance, although the general style of play can differ greatly from what players on American-friendly sites are used to. Since most nations in Europe tend to be more liberal than other countries, you'll find that online poker is usually legal, licensed, and easy to find. Combine this with the presence of leading sites such as 888 Poker, PartyPoker, and PokerStars, and you've got a combination that's hard to beat.